Researchers at the Istituto Superiore di Sanità (Italian National Institute of Health) have shown that severe acute respiratory syndrome coronavirus 2 (SARS-CoV-2) had already been circulating in Italy many weeks before the first autochthonous (native) case was documented on February 21st this year.
The team conducted a retrospective search for genomic traces of the virus in sewage samples taken from wastewater treatment plants (WTPs) in northern Italy before the first autochthonous case had been recorded.
Eight samples tested positive for SARS-CoV-2, with the earliest case dating all the way back to December 18th, 2019.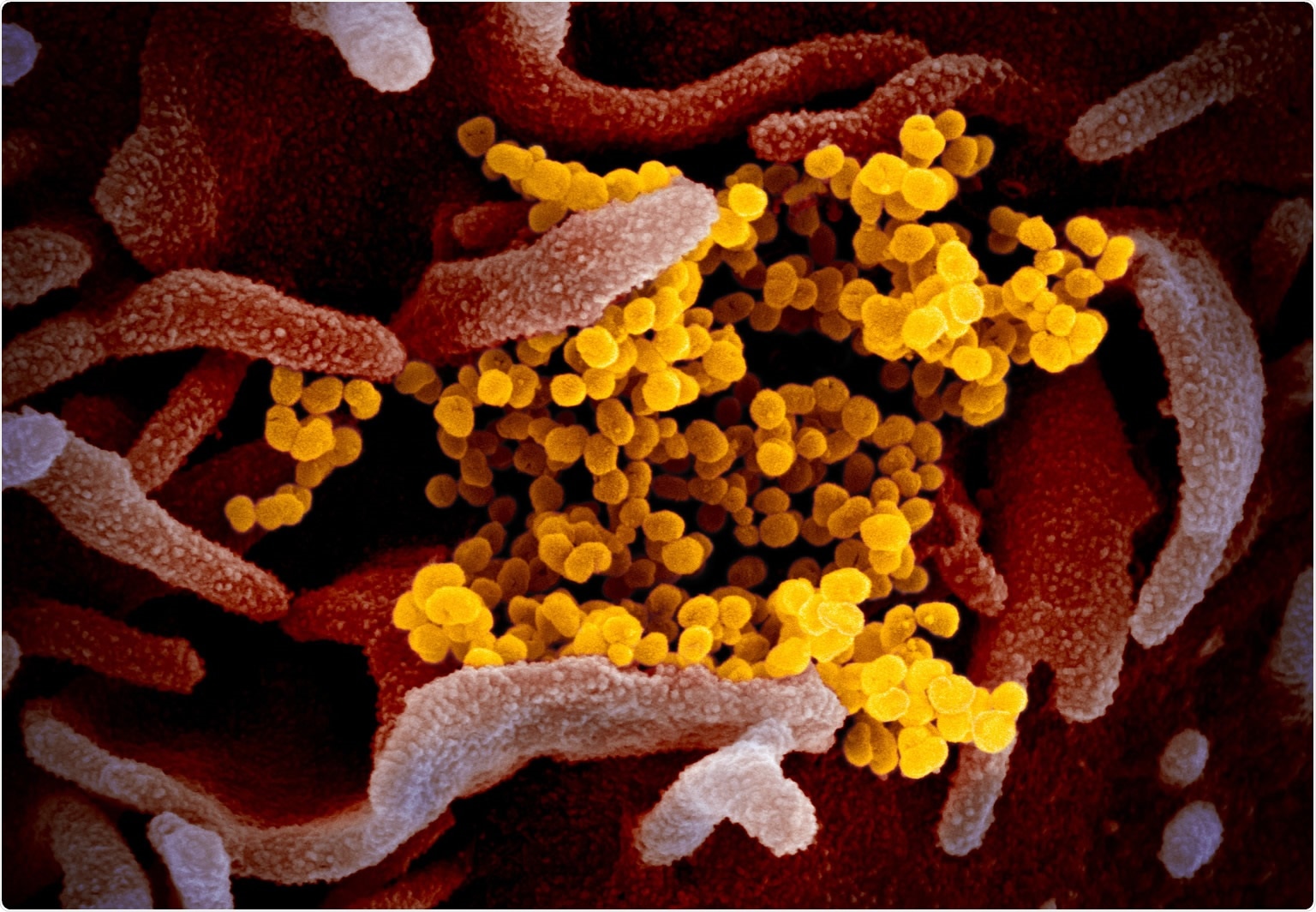 This scanning electron microscope image shows SARS-CoV-2 (yellow)—also known as 2019-nCoV, the virus that causes COVID-19—isolated from a patient in the U.S., emerging from the surface of cells (pink) cultured in the lab. Image captured and colorized at NIAID's Rocky Mountain Laboratories (RML) in Hamilton, Montana. Credit: NIAID
Elisabetta Suffredini and colleagues say the study further highlights the importance of environmental monitoring as an "early warning system" that can detect outbreaks before cases have even been reported to the healthcare services.
A pre-print version of the paper is available in the server medRxiv*, while the article undergoes peer review.
Codogno, Milano, Italy – 03/09/2020 – Volunteers working in the red zone. Image Credit RomboStudio / Shutterstock
The first reports of SARS-CoV-2 in China and Italy
SARS-CoV-2, the causative agent of COVID-19, first infected people in Wuhan, China, in December 2019. Since then, COVID-19 has become a global public health emergency and was declared a pandemic by the World Health Organization on March 11th.
Italy is among the world's most affected countries, with the virus having now infected more than 240,000 people and having caused more than 34,700 deaths.
According to the authors, the virus first affected Lombardy and Veneto in northern Italy, before spreading to all other regions of the country at a later stage.
The first reported cases of SARS-CoV-2 in Italy were two Chinese tourists who became ill during January after having flown in from Wuhan. The patients were immediately isolated and are not thought to have infected anybody else.
The first autochthonous case was documented one month later on February 21st and involved a 38-year old man from Codogno, Lombardy, in northern Italy. However, how the virus was introduced to this man is unclear since his colleague who was suspected to be "patient zero" tested negative.
Identifying the first introduction of the virus
"Identifying the first introduction of the virus is of great epidemiological interest. In Italy, and elsewhere, there have been speculations to the effect that COVID-19 had been silently circulating before the first case was identified," writes the team.
In Paris, for example, a retrospective analysis of respiratory samples taken from patients hospitalized in December 2019, found that one patient who had been hospitalized on December 27th was positive for SARS-CoV-2, despite not having visited China.
Patients have been shown to shed the virus in their stool
Studies have shown that about half of COVID-19 patients have detectable SARS-CoV-2 in their stool and that patients shed the virus in their stool, even if they are asymptomatic.
"Sewage samples can thus be used to monitor the levels of virus circulating in the population, an approach called wastewater-based epidemiology (WBE)," writes the team.
Now, Suffredini and colleagues have conducted a retrospective search for genomic traces of SARS-CoV-2 in forty sewage samples taken from WTPs across three cities in Northern Italy (Milan, Turin, and Bologna) between October 2019 and February 2020.
Twenty-four further samples, collected from the same WTPs between September 12th, 2018, and June 19th, 2019, were also analyzed as "blank" or control samples.
The samples had been taken as part of wastewater-based epidemiology studies and had been stored in an archive of the Department of Environment and Health at the Italian National Institute of Health.
Samples dating back to December 18th tested positive
Molecular analysis using both nested reverse transcriptase-polymerase chain reaction (RT-PCR) and real-time PCR revealed that 15 samples were positive for SARS-CoV-2.
Of these positive samples, eight had been collected before the first documented autochthonous case in Italy. The earliest cases dated back to December 18th, 2019 in Milan and Turin and January 29th, 2020, in Bologna.
"Our study on archival samples collected before the first autochthonous case was detected confirm that SARS-COV-2 was already circulating in Italy after mid-December 2019, as demonstrated in France by retrospective analysis of stored respiratory samples," say the researchers.
The potential value of environmental surveillance
The researchers say the study shows the potential value of environmental surveillance as an early warning system that could alert health authorities to the presence of an outbreak in a specific population.
"The activation of national WBE networks for the monitoring of SARS-CoV-2 could contribute to the early detection of a possible second wave of infection, so as to quickly coordinate and implement mitigation interventions, and could establish a surveillance system ready to operate in case of future epidemic events," concludes the team.
*Important Notice
medRxiv publishes preliminary scientific reports that are not peer-reviewed and, therefore, should not be regarded as conclusive, guide clinical practice/health-related behavior, or treated as established information.
Sources:
Journal reference: